**This post may contain affiliate links, which means I might receive a wee bit of money when you purchase from my links.**
Hummus has exploded as a healthy snack in the US and other countries worldwide. Based on historical records, the earliest mention of hummus date back to Egypt! This recipe for homemade hummus without tahini is cheap, easy and absolutely delicious.
I can't take all of the credit for this recipe. My husband really helped out on getting the right finishing touches. And if he approves it, I'm sure you will too!
This recipe for homemade hummus has 3 main differences from traditional recipes:
Instead of using tahini, we use sesame seeds.
We use a Vitamix blender in lieu of a food processor. However, you can use a food processor with this recipe if you do not have a Vitamix blender or equivalent.
We cook the chickpeas until they can be squished easily. If you use canned chickpeas, then you would need to continue cooking them for about 25-30 minutes to reach the desired state. If you used dried chickpeas, then you need to cook these bad boys for about 1.5 hours.
Recipe for Homemade Hummus without Tahini
Soak the dried chickpea beans for a few hours or overnight.
Boil the chickpeas in water with cumin and baking soda. Prepare the sesame seeds, lemons, and mashed garlic.
Add the mashed garlic to the squeezed lemon juice. Add the olive oil to the garlic and lemon mixture. Set aside until chickpeas are cooked.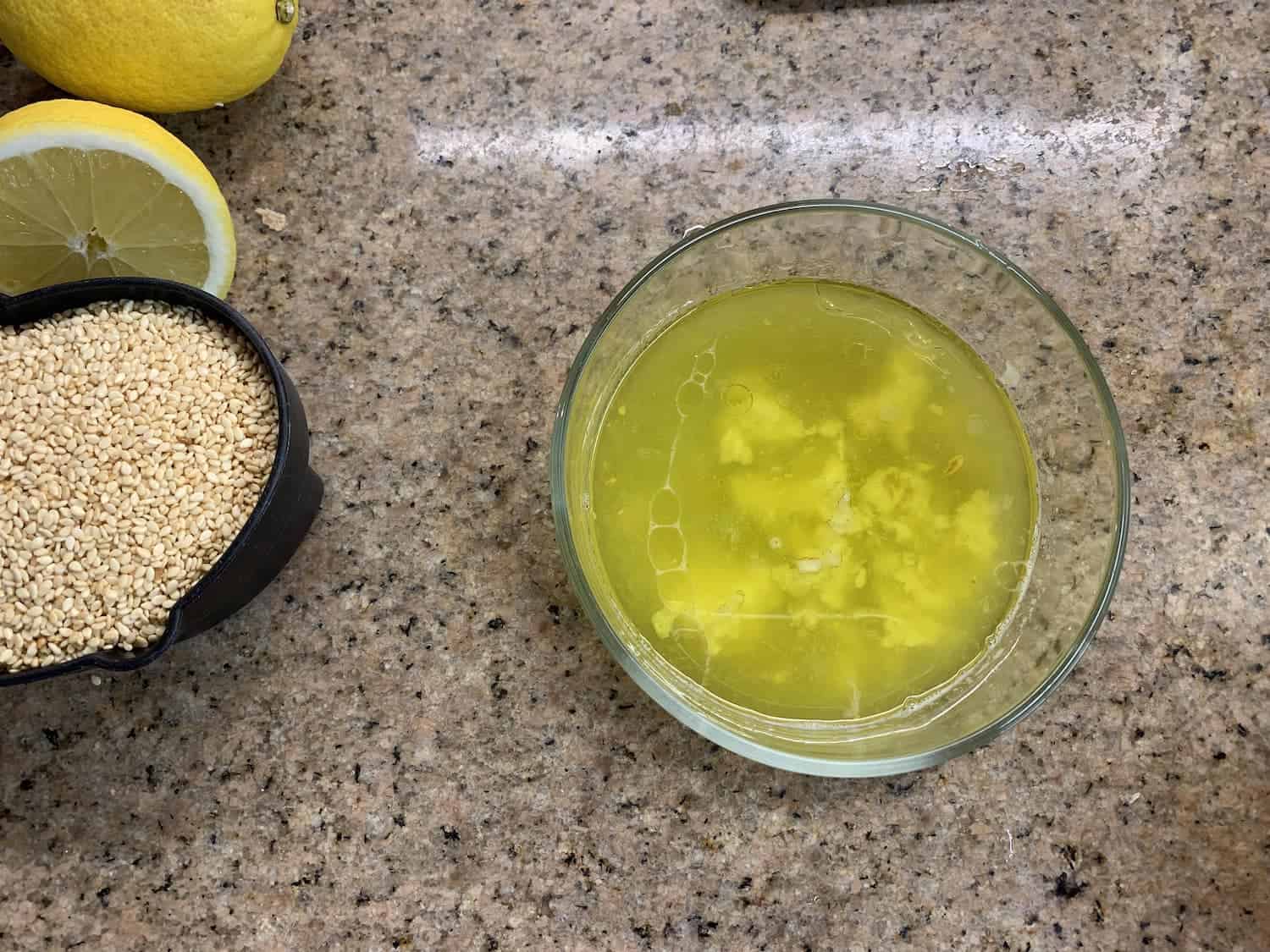 Strain the chickpeas.
Once chickpeas are cooked all the way, drain excess water. One way of telling if they are cooked completely is when you start to see the skins detach from the bean, just like below.
Blend 1 cup of cold water, sesame seeds, and lemon and garlic mixture. Gradually add chickpeas to the blender. Alternate between water and chickpeas until all chickpeas are blended. Add salt to taste.
If using a Vitamix blender, you want the consistency to be just thin enough to blend. If the hummus is not blending, then it's too thick and needs water added.
Taste your hummus. Add salt or lemon juice as needed. Pour into a bowl and top with generous amounts of high-quality olive oil.
Other Tips and Notes
Some other hummus recipes recommend removing the outer skin of the chickpea. I've tried taking off the peel of each bean one by one and it is time-consuming! To be honest, I couldn't tell a difference in taste. I did see a slight difference in consistency though when using a food processor. Once I used the Vitamix, I could not tell a difference between hummus batches with the skin removed and hummus batches without the skin removed.
I was hesitant to make the hummus with a blender at first because the recipe needs water in order to blend, and I thought the water would make it watered down. Actually, the only thing that changed was the consistency. Using a blender made the hummus way more smooth.
Sesame seeds are a great substitute to tahini. Tahini quality can vary, and by using the whole food option, you will have consistent hummus every time.
Other Variations of Hummus
If you would like to change things up a bit, you can add roasted garlic, roasted red peppers, or basil.
Eat hummus with pita bread, pita chips, carrots, or cucumbers. My toddler likes hummus and pita bread sandwiches. Sometimes, I'll add a boiled egg to the sandwich.
Print
Best Recipe for Homemade Hummus
---
Author:

Prep Time:

15 minutes

Cook Time:

1 hour 15 minutes

Total Time:

1 hour 30 minutes

Yield:

12

1

x

Diet:

Vegan
Description
Have you ever wondered how to make hummus? This is an easy recipe for homemade hummus. Passed down through the generations, this is an authentic version.
---
Scale
Ingredients
2 cups

dry chickpeas beans

2

whole lemons

4

cloves garlic

2 tbsp

of cumin

1 cup

sesame seeds

2 tbsp

olive oil

1 tbsp

baking soda
cold water on hand
salt and pepper to taste
---
Instructions
Let dry chickpeas soak in water overnight if possible. If overnight is not possible, let soak for 2 hours.
Boil chickpeas with cumin and baking soda. Boil until the outer skins are coming off.
Drain chickpeas.
Juice lemons, peel and smash garlic with mortar and pestle. Add garlic to lemon juice.
Add olive juice to lemon and garlic mixture.
Add lemon garlic mixture to the blender or food processor. Add 1 cup cold water. Add sesame seeds. Blend on high.
Add half of cooked chickpeas. Keep alternating between cold water and chickpeas to get desired consistency.
---
Category:

Appetizer

Method:

Blended

Cuisine:

Lebanese
Nutrition
Serving Size:

2 Tablespoons

Calories:

128

Sugar:

0 g

Sodium:

184 mg

Fat:

9 g

Saturated Fat:

1 g

Unsaturated Fat:

8 g

Trans Fat:

0 g

Carbohydrates:

11 g

Fiber:

4 g

Protein:

5 g

Cholesterol:

0 mg
Keywords: hummus chickpea dip chickpeas homemade garbanzo beans, hummus without tahini, best homemade hummus, hummus in a blender
Recipe Card powered by