How well do you really know about olives and how to use them? This post covers over 31 unique olive recipes for "all-of-you" olive lovers out there. Whether you love or hate olives, they're a controversial topic. However, there are almost unlimited things to do with them and flavors that go well with them.
So, why not see how many olive recipes you already know and have tried? I can almost guarantee that you won't already know everything about olives and all of the ways I've recently discovered to use them.
Plus, olives go with such a wide range of ingredients and add so much flavor to a dish that they're a truly essential part of my cooking arsenal - and they should be part of yours too. Whether you cook them or eat them as they are, they can really pack a punch!
Whether you love them or hate them, there's an olive recipe out there somewhere for you!
If you are curious to know more about the types of olives, how they are grown, the different ways of curing olives, check out our complete guide to olives.
What are the Most Famous & Traditional Ways to Use Olives?
The most traditional ways of using olives (aside from just eating them plain) would have to be in the form of olive oil, marinaded or stuffed olives, olive tapenade, and olives on pizza or in pasta and salads.
So, I'll be covering these more common ways of enjoying olives first and will then move on to more modern culinary olive recipe creations!
Olive Oil
Fun fact: you can actually make your own olive oil at home!
It's true - while it might not be the most cost or time-effective method of getting hold of it, you can actually press your own using an oil press.
For one gallon of oil, you'd expect to need approximately 40 pounds of olives. So it's definitely not cost-effective unless you're planning on starting your own olive oil machine.
Flavoring & Stuffing Olives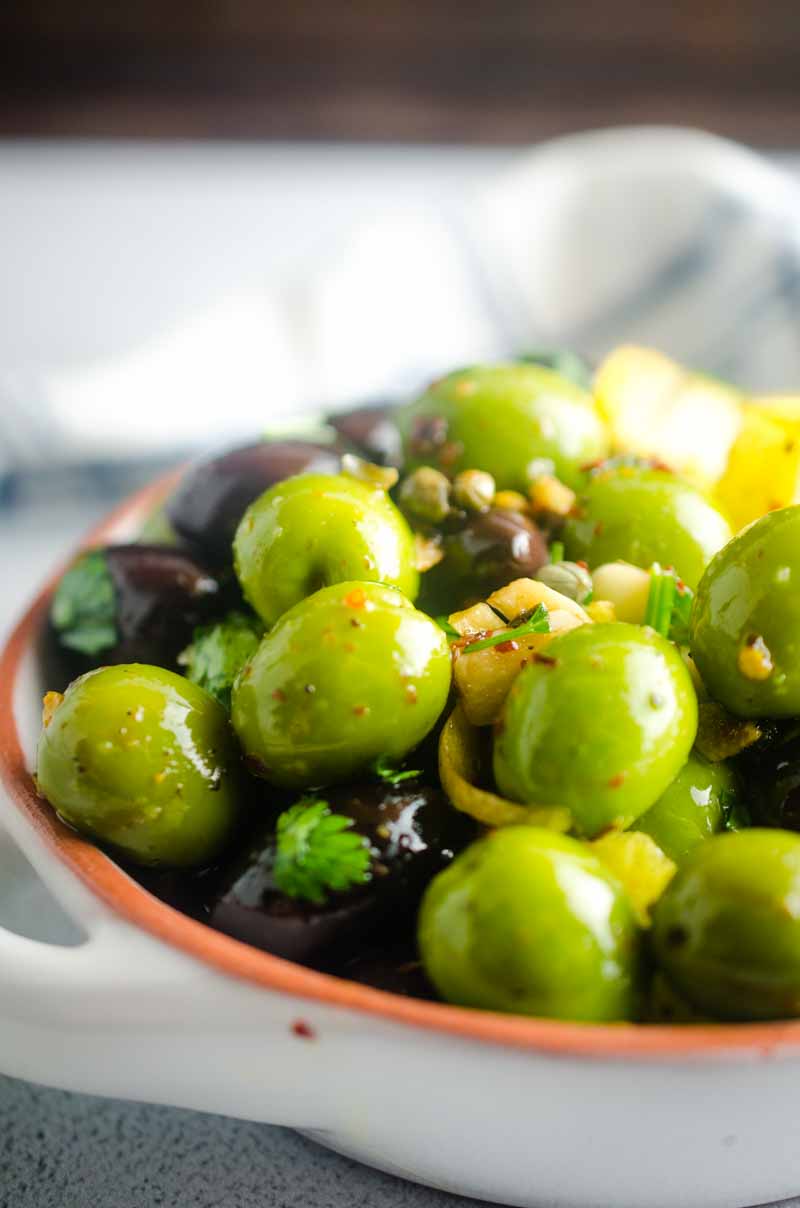 Marinated olives are loved the world over for their flavour. After all, who doesn't love olives with an olive oil, lemon and herb marinade?
There are a lot more ways to flavour olives than that though - for example, in the image above you can see these marinated olives from Life's Ambrosia. This blend of olives, olive oil, garlic, capers, and lemons is incredibly flavourful and great for serving as a pre-dinner nibble or holiday appetizer - they go perfectly well with a cheese board!
Or, why not try these warm citrus marinated castelvetrano olives from A Food Lover's Kitchen - they're sure to be a hit with guests! If you've never tried warm olives then you need to give them a go ASAP!
If you're feeling in a more Persian food sort of mood, then these marinated olives with walnuts (zeytoon parvardeh) from Unicorns In The Kitchen look just heavenly! Look at all that nutty goodness!
Olives as a Tapenade or Spread
Tapenade is a French name for a dish consisting of finely pureed or finely chopped olives, capers and anchovies.
This means that it's both traditionally French in origin and that an olive tapenade recipe without capers or anchovies is technically just an olive spread. However, I'd say that it's about time we relaxed enough to call any olive spread a tapenade!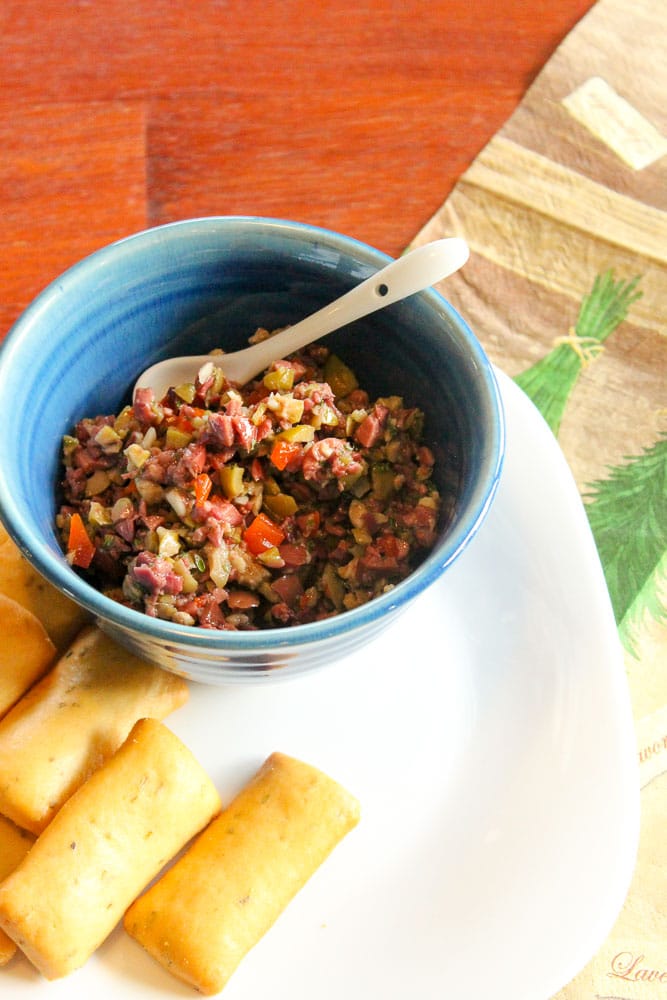 This quick and simple olive tapenade from Delicious on a Dime is a great way to use up either black or green olives - it's salty, briny, and tangy and makes a delicious snack when spread on freshly baked bread!
Or, why not enjoy a deliciously creamy green olive dip from Soul & Streusel - you only need 4 ingredients and it can be on the table in just minutes!
You can try this Algerian Black Olive Tapenade made from 4 ingredients (no anchovies or capers included).
Olives on Pizza, Pasta, and Salads
Olives are a staple on pizza - although they're still pretty controversial! Personally, I do like olives on pizza - they add a salty, briny flavour that's only improved when you add parmesan as well!
You can even use olives on a keto pizza - like this one with pesto from Keen for Keto. It looks absolutely divine - and those photos show an amazing cheese pull!
I also love olives in salads such as this vegan Mediterranean cucumber salad from Crunch & Cream. If you're not vegan then you could also add salty feta - the flavor is brilliant alongside the briny olives and mild cucumber!
Or, if you're a pasta fan (aren't we all!) then you could try this light olive oil spaghetti from Crunch & Cream. It's full of veggies and makes a great filling lunch or light summer dinner! Once again, the black olives perfectly complement the salty parmesan and mild courgette (zucchini) - the olives actually help to season the dish!
The spaghetti also includes sweet red onion, juicy tomatoes, fresh basil and lemon zest and some lightly wilted spinach. Overall, it's just a beautiful looking and tasting dish that can be customised with your favourite proteins and veggies!
Or, for an even more salty olive flavor, try this herby pasta with garlic and green olives from Bon Appetit. The recipe uses olive oil, pitted olives, basil, and lemon juice to bring out as much flavor as possible from each ingredient!
What are Some Other Olive Recipes?
There is an incredible number of ways to use olives. While I've already covered using them as a spread, with pasta or marinating them, there are countless other things you can try doing with them. So, why not find one you haven't tried before and give it a go?
Olives in (and on) Bread
Why not try baking olives into your next homemade loaf of bread? This olive and parmesan cob loaf from Fab Food 4 All looks incredible! Olives and parmesan have always been an incredible flavor combination, and they only get better when added to freshly baked bread!
You can use green or black olives in this bread, so it's even customisable to your preferences! And hey, who doesn't like freshly baked bread? It's irresistible!
Or, why not try this olive, tomato, and rosemary focaccia recipe from Gordon Ramsay? Focaccia always goes down well, and olives go perfectly with the traditional drizzle of olive oil over the top of the loaf!
For a cheese on toast-style treat, why not try this Italian toast with tomatoes, olives and basil from Crunch & Cream. This recipe uses black olives, and while they're optional, they're highly recommended!
Or, for a less traditional spread, why not try this green olive and smashed chickpea spread from Whole Food Bellies - it looks delicious!
Olives in Dips
As for dips, you could try this black olive hummus from The Bean Bites. It's a great way to use up leftover black olives when you're not too sure what to do with them - the hummus looks so creamy!
As The Bean Bites' post explains, not all olive hummus recipes are equal - and this one looks like a good one!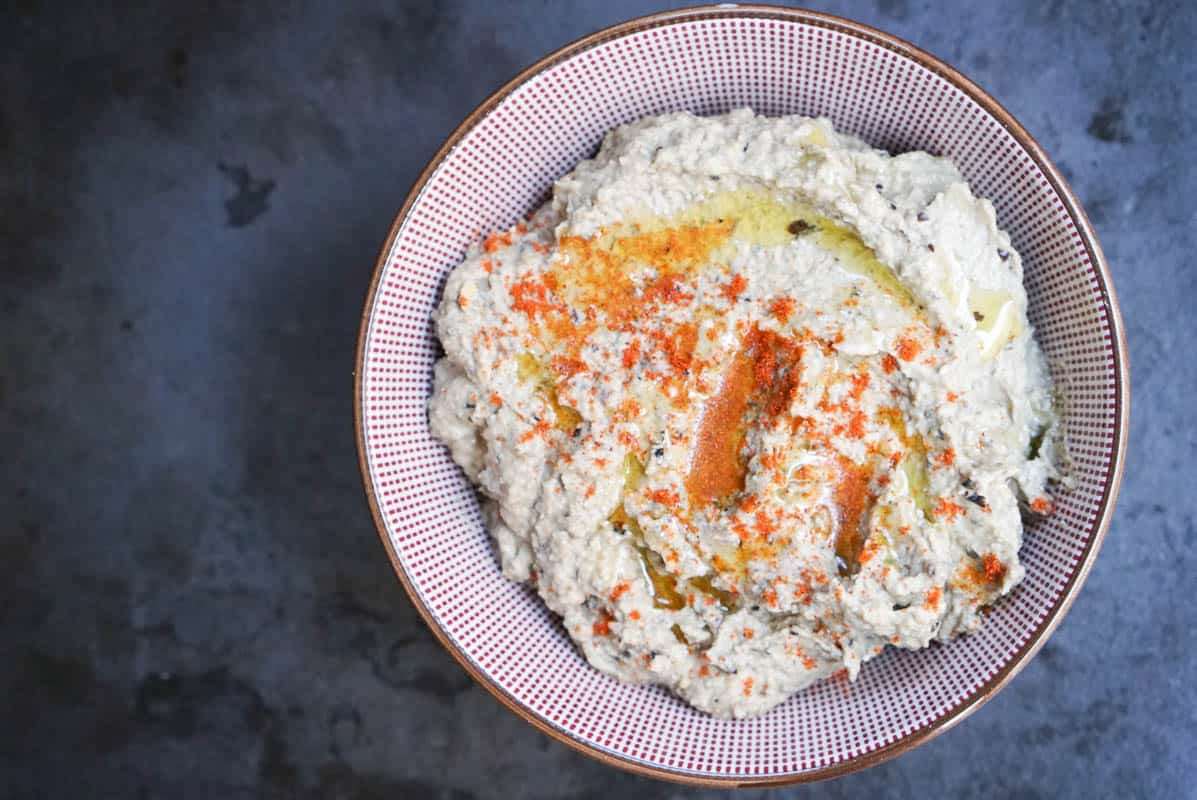 Or, for a more unusual (and less Mediterranean) offering, why not try this avocado and olive salsa from Farmer's Girl Kitchen - it looks incredible! I bet it's delicious on tortilla chips!
Olives & Chicken
This is probably the largest section of all in this post! Chicken and olives are actually a wonderful pairing, as these recipes demonstrate!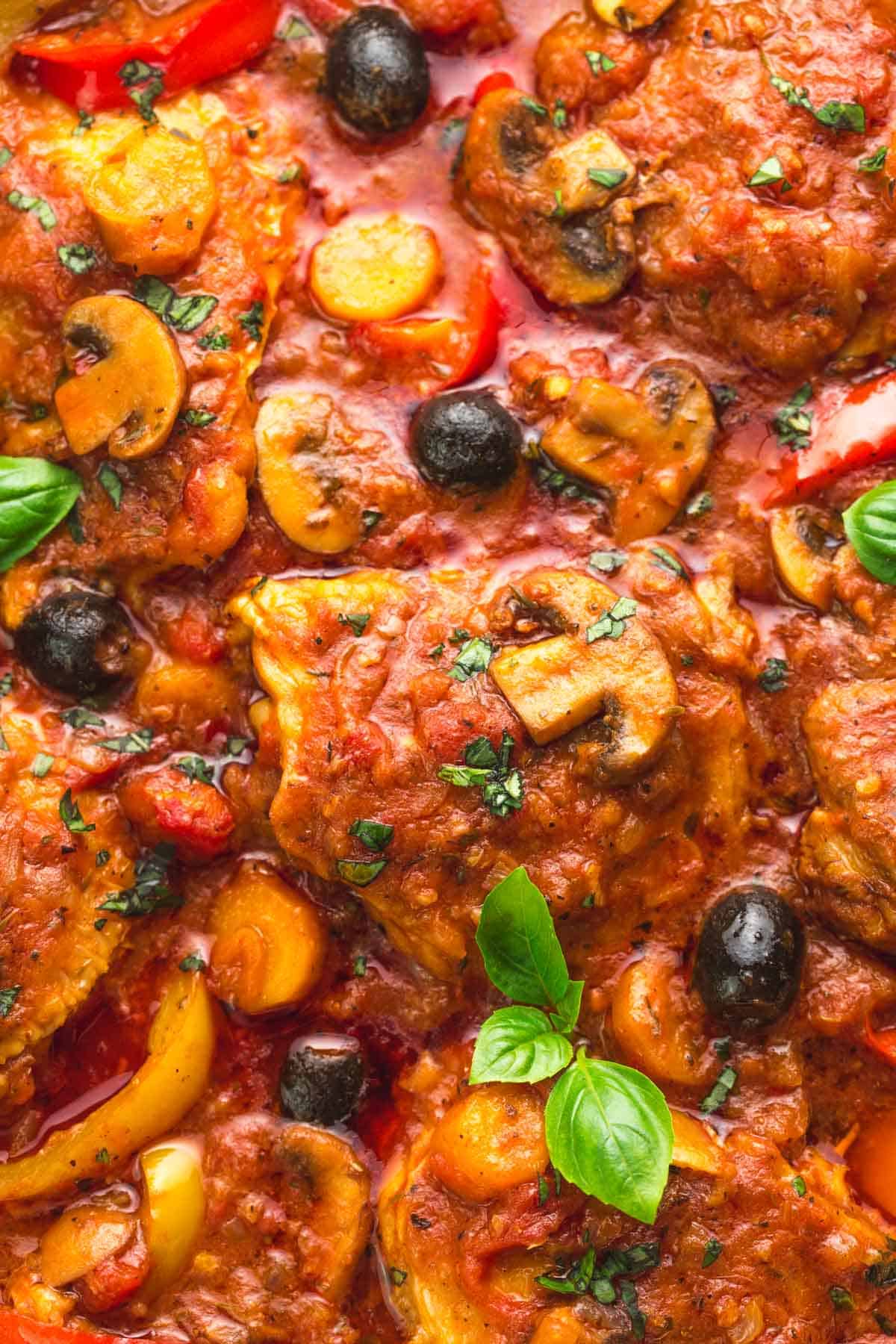 So, let's start with the classics - Italian chicken cacciatore! This is chicken cooked in a rich tomato sauce with peppers, mushrooms and olives. The chicken is braised so that it's almost fall-off-the-bone tender and the sauce is amazingly fragrant!
This recipe for chicken cacciatore from Little Sunny Kitchen is probably the best I've seen, and the photos (see above photo) are just gorgeous - what a stunning meal!
Or, for a more Middle-Eastern flavour combo, why not try this harissa chicken and olives from Sidewalk Shoes - it looks absolutely heavenly! After all, harissa brings a ton of flavour to the dish and it just makes sense to pair all of that gorgeous warming flavour with lovely salty olives!
Another such flavourful recipe would be this Moroccan lemon chicken with olives - it's a pressure cooker recipe from This Old Gal and is actually low carb, keto and weight watchers-friendly!
There's also the classic combination of olives with chicken and herbs that are used in this recipe for chicken with cracked olives and herbs. It's from The View From Great Island and is lovely and vibrant - if it tastes as good as it looks then you'll be in for a treat!
Going back to Greece and the Mediterranean, this Greek chicken & rice from In Fine Taste looks just amazing! There are only a handful of kalamata olives in the dish, but they really add to the flavor more than you might think!
Olives & Steak
Olives and steak might seem like an unlikely combination, but when you cook the steak in certain ways, the olives can really help to bring out its flavour!
For example, there's this cubed steak with peppers and olives recipe from Cheese Curd in Paradise, which uses an instant pot or slow cooker to cook the steak so that it's gorgeously tender and in a rich tomato sauce with the peppers and olives. The olives help to season the dish in this scenario, as olives are typically very salty. By the time the dish is done cooking, the cubed steak is seasoned right the way through!
Or, as a second example, there's this steak pizzaola recipe from April Golightly. This is a low-carb dinner that involves gorgeously pink steak topped with a rich tomato and olive sauce. It's actually a fairly low-calorie dinner thanks to the fact that it's keto and isn't served with pasta or rice. Of course, if you aren't on the keto diet and can have pasta with it then that would be delicious, but it's just as tasty alone!
Olives & Fish/Seafood
Olives are a classic Mediterranean flavour for with fish and seafood - they're a gorgeous pair!
For example, this keto garlic shrimp in puttanesca sauce from Appetite for Energy is a delicious and simple dinner that also happens to be gluten-free! Plus, you only need 20 minutes and 7 ingredients to put it together - what could be better than that?
Or, for a cod option, why not try this cod with lemon and olives from The View from Great Island? It looks so light and fresh - perfect for spring and summer!
Olives & Potatoes
You could also try using olives in a potato salad like the one below! This Greek potato salad recipe from Veggie Desserts looks just incredible - perfect for any summer barbecue or get-together!
Or, if you prefer roasted potatoes then these crispy roasted Greek potatoes from Lemon Blossoms look incredible! The fresh, salty olives must really add a light, fresh flavor to the crispy roasted potatoes!
Olives & Halloumi
Halloumi is a staple vegetarian protein, and goes absolutely wonderfully with olives thanks to its Greek origin. The two are both salty though, so if using both then it's worth trying to avoid adding extra salt if possible!
There's a delicious olive and halloumi recipe from Crunch & Cream - this roasted vegetable quinoa bowl (see above). It's a simple dinner, but tastes even prettier than it looks!
Wrapped Olives
It turns out that you can, in fact, wrap olives just the same as you'd wrap other foods like sausages!
For example, I have 2 recipes: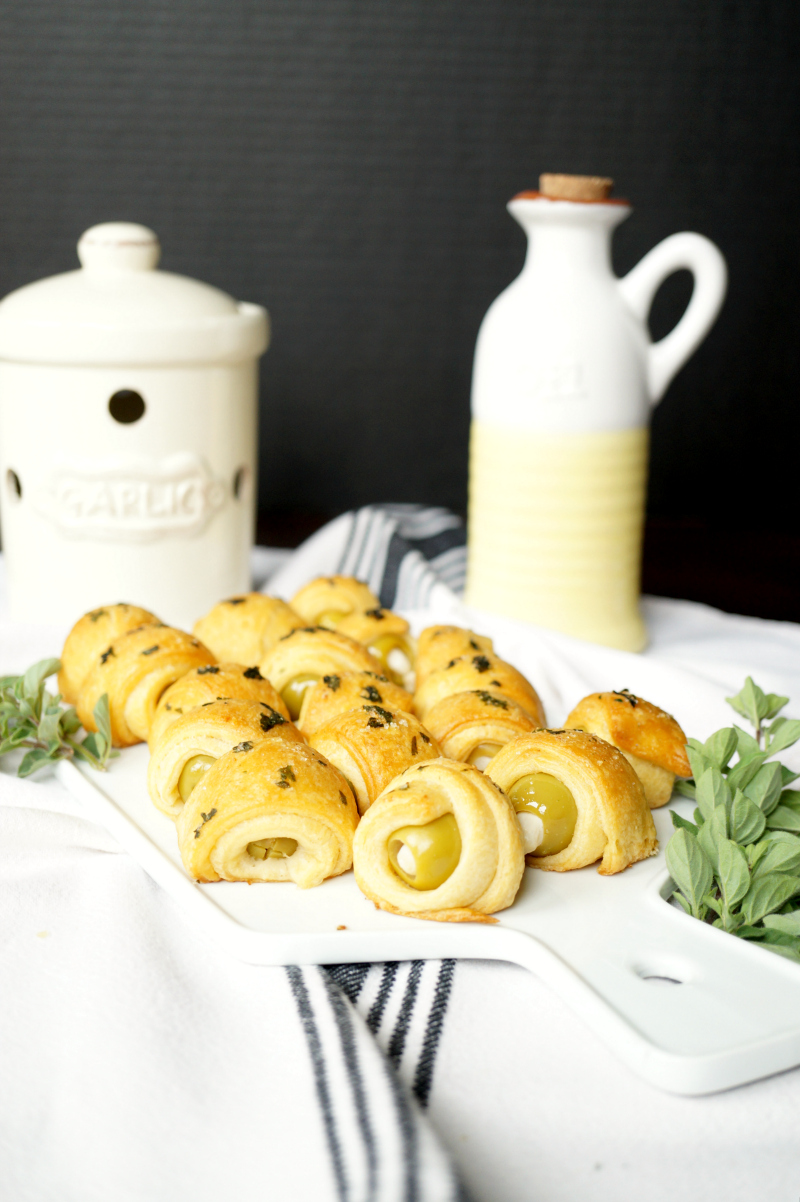 Fried Olives
Yes, you read that correctly! It turns out that fried olives are a thing - and they look incredible! Want to give them a try? Give this recipe from Confetti and Bliss a go!
Olives as a Substitute for Beans
Once again, yes, this is real! This recipe from Low Carb Yum uses olives as a substitute for beans in chili - genius!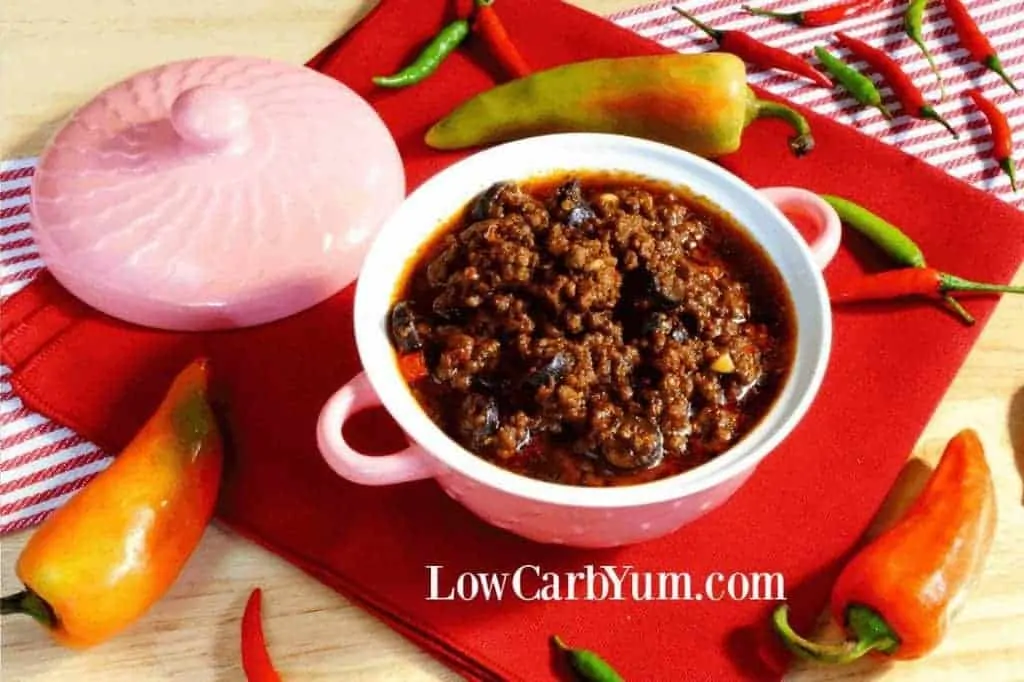 Want to Try Some Other Recipes That Go With Olives?